Top video conference solutions by AVVIETNAM
Oct 13, 2020
​​​​​​​Video conference is already a concept that is not unfamiliar to most businesses. Let's discover top video conference solutions by AVVIETNAM through this post.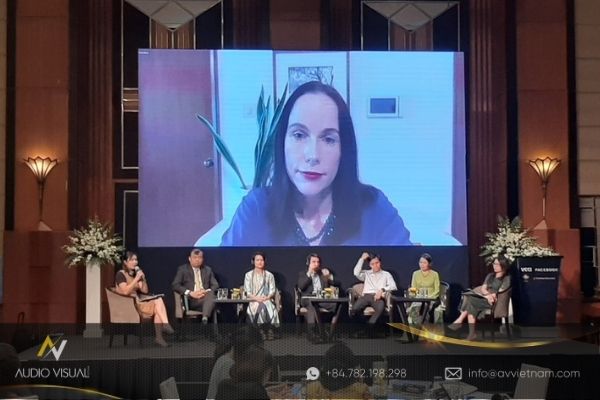 Overview of 2 types of video conference solutions
Hardware solutions
It is a dedicated video conferencing equipment solution, coming from reputable technology companies such as AVer, Polycom, Cisco, Tandberg, Sony,...
Advantages:
The entire meeting content can be stored.

Ensure communication content, sound quality, image clarity.

With outstanding security features, stable and completely store all meeting content.

Develop and strengthen customer and partner relationships.

Video conferencing solutions help to receive businesses process information and respond quickly and accurately.
Disadvantages:
The investment cost of the video conferencing system is quite high.

Due to the modern equipment, with many outstanding features, when having problems with the equipment, it is necessary to have highly qualified technicians.
Software solutions
These are the software created by developers to meet the needs of online meetings such as Skype, Google Hangout, Zoom, TrueConf,….
Advantages:
With many free features such as screen sharing, whiteboard sharing, conversation recording, data and document sharing,...

Free online conversations depending on the account class.

Easy to deploy, can be used on many different platforms, operating systems, and devices.

With an Internet connection, users can organize online meetings anywhere.
Disadvantages:
Users have to pay extra for additional features.

Pay an extra fee to achieve HD 1080p HD call quality.

The quality is unstable, the sound may not be clear, the picture quality is low.

To make a phone call, you must set up a phone number and pay for an additional fee.
Some common video conference solutions that are widely used
AVer video conference solution
Pros
A reputable brand received many great awards.

The device has a variety of hardware, software as well as all-in-one device solutions to optimize different usage needs.

Sharp picture and sound quality, always integrated with new technologies.

Optimal investment costs, consistent with the investment budget of the business.

The device has a sophisticated, luxurious design suitable for any space used.
Cons
AVer previously only made hardware. Therefore, they may get competition compared to other firms. The cost when you need to replace is quite expensive.
Polycom TV Solutions
Pros
Polycom video conferencing products are constantly improving in quality to satisfy fastidious customers in many different markets and fields. Therefore, Polycom has a strong brand name and high product quality. Polycom has successfully researched and developed H.264 video technology. This helps customers to save bandwidth when meeting online. Polycom Conferences deliver HD and Full HD online meetings with good sound quality and stability.
Cons
Polycom video conferencing has no Cloud service. Polycom is quite loyal to the hardware industry. Therefore, there will be a disadvantage compared to other firms because customers who want to upgrade the system to increase the number of demand points, they need to replace the MCU at a rather expensive price of about $ 100,000.
Video conference solution: Skype for Business
Pros
Just need an internet connection, users can use it anywhere and on many different types of devices.

Users can control the participant's screen or share screens, sharing their own documents while the video conference is in progress.

Users can record the entire content of the meeting.

If the user misses a message, it is sent as an alternative email.
Cons
Users have to pay extra for additional features

To make a phone call, you must set up a phone number and pay for an additional fee

If the user doesn't have Office 365, there's an extra cost ($ 2 per month, per user)
Google Hangout video conferencing solution
Pros
Many convenient features for free.

Can be used across multiple platforms: different operating systems and mobile devices.

Easy to deploy, compatible with other Google products.

Just need an Internet connection, users can organize online meetings anywhere.
Cons
User must create a phone number via 'Google Voice' to make phone calls

To share your screen, you need an additional application: Chrome Remote. User must have an account

Accounts for Gmail and Google+ and multiple Google apps must be installed.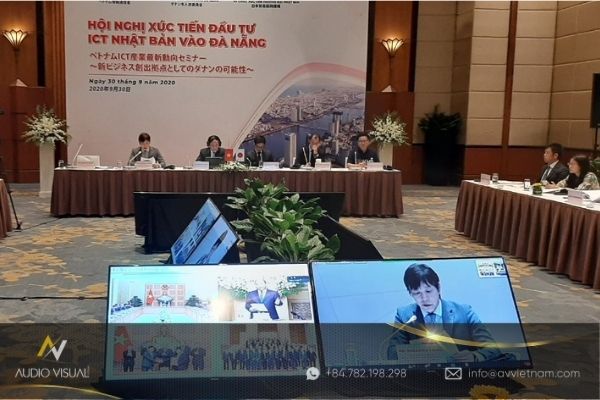 The bottom line
These are top video conference solutions by AVVIETNAM. Currently, AVVIETNAM is providing high-quality video conference and event equipment rental services. Not only there are devices for online conferencing but for other events, they are also fully equipped. For further information, please contact us via the website or follow hotline +84.98.98.98.198 for detailed advice.